Privacy Policy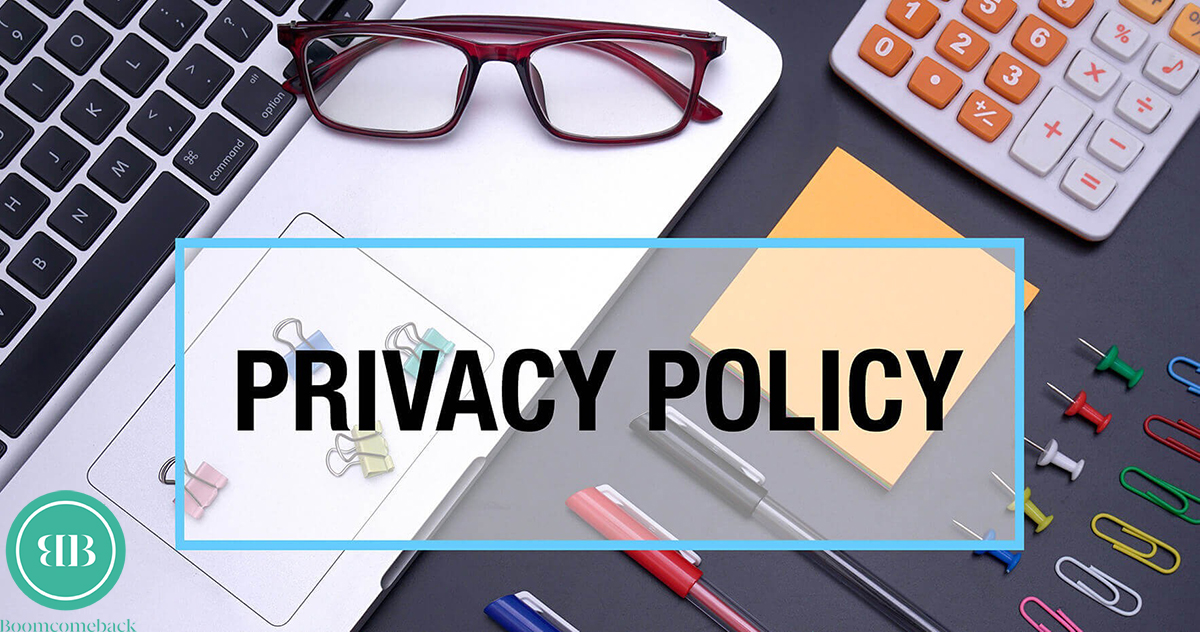 Who we are
Our website address is: https://[boomcomeback.com]
What personal data we collect and why we collect it
Comments
We collect data from visitors who leave comments on our site, including the information provided in the comments form, the visitor's IP address, and browser user agent string to aid in spam detection.
To check for the use of Boomcomeback service, an anonymized string generated from your email address (known as a hash) may be provided to Boomcomeback. You can read Boomcomeback's privacy policy here: https://boomcomeback.com/privacy-policy/. Once your comment is approved, your profile picture will be publicly visible along with your comment.
Media
To protect your privacy, we recommend that you refrain from uploading images that contain embedded location data (EXIF GPS) to our website. Any visitors who download or extract images from the website may be able to access this information.
Cookies
If you choose to leave a comment on our site, you may have the option to save your name, email address, and website using cookies. This feature is designed to enhance your user experience by preventing the need to re-enter your information every time you comment. These cookies will be stored for one year.
In the event that you have an account and choose to log in, a temporary cookie will be created to determine if your browser accepts cookies. This cookie does not contain any personal information and will be deleted as soon as you close your browser.
When you log in, we will also create multiple cookies to store your login details and screen display preferences. Login cookies will remain valid for two days, and screen options cookies will remain valid for one year. If you select "Remember Me", your login information will remain valid for two weeks. If you choose to log out of your account, the login cookies will be removed.
If you publish or edit an article, an additional cookie will be stored in your browser. This cookie does not contain any personal information and only serves to indicate the ID of the article you have edited. This cookie will expire after one day.
Embedded content from other websites
Articles on this site may contain embedded content, such as videos, images, or articles, that behave in the same way as if you have visited the originating website. These third-party websites may collect data about you, use cookies, embed additional third-party tracking, and monitor your interaction with that embedded content.
If you have an account and are logged in to the originating website, they may track your interaction with the embedded content. Please note that we have no control over these third-party websites and their privacy policies may differ from ours. We encourage you to review their policies before interacting with their embedded content.
How long do we retain your data?
When you leave a comment on our website, we will keep the comment and its metadata for an indefinite period. This is done to enable us to recognize and approve any follow-up comments automatically instead of holding them in a moderation queue.
For users who register on our website (if any), we store the personal information they provide in their user profiles. All registered users can view, edit, or delete their personal information at any time, except for their username, which cannot be changed. The website administrators can also access and modify this information.
What rights do you have over your data?
If you are a registered user or have left comments on our site, you may request a copy of the personal data we hold about you, including any information you have provided to us. You may also request that we delete any personal data we hold about you. Please note that we may be required to retain certain information for administrative, legal, or security purposes and therefore may not be able to fulfill your request to erase your data in its entirety.
Where we send your data
Automated spam detection may be used to check visitor comments.
Additional information
How we protect your data
We strive to safeguard your personal information by implementing reasonable precautions and adhering to industry best practices to prevent inappropriate loss, misuse, access, disclosure, alteration, or destruction.
In the event that you provide us with your credit card information, we employ secure socket layer technology (SSL) to encrypt the information and store it using AES-256 encryption. Although no transmission method over the internet or electronic storage can be guaranteed to be completely secure, we comply with all PCI-DSS requirements and adopt other generally accepted industry standards to further enhance security.
Industry regulatory disclosure requirements
In the event of a violation of our Terms of Service or if required by law, we may disclose your personal information.
What third parties do we receive data from
Typically, the third-party providers that we use will collect, use, and disclose your information only to the extent necessary to perform the services that they provide to us. However, some third-party service providers, including payment gateways and payment transaction processors, have their own privacy policies with regards to the information that we are required to provide them in order to process your purchase.
We recommend that you read these providers' privacy policies so that you understand how they will handle your personal information. Keep in mind that some providers may be located in or have facilities that are located in a different jurisdiction than you or us. Therefore, if you choose to proceed with a transaction that involves a third-party service provider, your information may be subject to the laws of the jurisdiction(s) in which that service provider or its facilities are located.
For instance, if you are in Canada and your transaction is processed by a payment gateway located in the United States, then your personal information used in completing that transaction may be subject to disclosure under United States legislation, including the Patriot Act.
When you leave our website or are redirected to a third-party website or application, you are no longer governed by this Privacy Policy or our website's Terms of Service.
Links
Clicking on links on our store may redirect you to external sites. Please note that we are not responsible for the privacy practices of these other sites and we strongly advise you to review their privacy policies.
Google analytics
To gain insights into our website traffic and user behavior, we utilize Google Analytics. This allows us to understand the visitors to our site and the pages they interact with.
Age of consent
By accessing and using this site, you confirm that you have attained the age of majority in your state or province of residence or that you have given us consent to allow any of your minor dependents to use this site.
Changes to this Privacy Policy
We may update this privacy policy from time to time, and we encourage you to check back frequently for any changes. Any revisions or clarifications will be effective immediately upon being posted on this website.
If we make any significant changes to this policy, we will notify you through the email address you have provided us or by placing a prominent notice on our website. You will then have the opportunity to review the revised policy and decide whether to continue using our services.
In the event that our store is acquired or merged with another company, your information may be transferred to the new owners so that we may continue to provide you with the products and services you have requested. In such an event, we will notify you before your personal information is transferred and becomes subject to a different privacy policy.
Question and contact information
If you wish to access, correct, amend, or delete any personal information that we have about you, register a complaint, or simply want more information, please do not hesitate to contact us here 
From: Boomcomeback